I haven't had time to update, but here are the latest items:
I know oatmeal is extremely plain, but since I eat it most mornings, I thought I'd take a picture of it. Unfortunately, I waited until I was almost done eating it before remembering to take the picture.
1/2 c. old fashioned oats
1 packet Splenda
3/4 tsp. cinnamon
dash salt
3-4 oz. plain Silk soymilk
1/2 tsp. Torani sugar-free syrup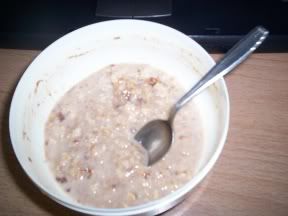 The next item was Thursday's lunch. It's basically the same as last week's Chinese broccoli ensemble with less sauce, no beans, and more veggies.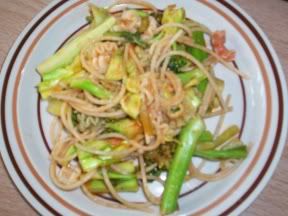 1/2 c. organic pasta
1 cm. diameter of whole grain spaghetti
1/3 c. (or less, couldn't tell as it was frozen) Ragu organic pasta sauce
1 cup Chinese broccoli, broccoli pieces
onion powder (to taste)
Sorry, I need to cook better, but I really haven't been in the mood to experiment. Most of my free time I'd rather spend roaming around campus, surfing the net, or sleeping.