See, I told you that I would get slightly more creative.
Below is some cauliflower that was absolutely delicious. It SO was great to both my olfactory nerves and my taste buds that I took TWO pictures of it: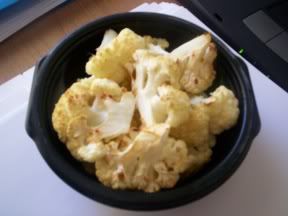 cauliflower florets
2 tbsp Wish Bone Just 2 Good light Italian salad dressing
onion powder (to taste)
Basically, I tossed these two together and put them in the toaster oven for 30 minutes at 400 degrees (that's fahrenheit). Did I mention how good they were, especially with the evident crustulation (is that a word?)?
As a side note to this, the black bowl came from some vegetarian chili that I once got from Whole Foods. Yep, talk about ghetto!
The second item is something I whipped up very quickly for lunch today: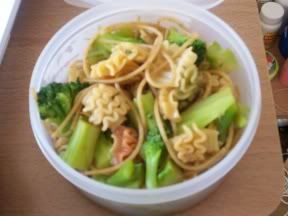 1 spear of broccoli, chopped
1/2 c. organic pasta (it's going away slowly)
1 cm diameter of whole grain spaghetti (this somehow won't go away)
3 tbsp Kikkoman teriyaki sauce (watery kind)
I boiled the broccoli and pasta, condensed the sauce a little bit, and then combined them. It was surprisingly good, though probably in need of some onion or little firm tofu cubes. At least it wasn't terrible... or yucky... just teriyaki. =P And no, I finished off my last tomato this week, so you can't throw any at my bad joke.
By the way, I just finalized my summer plans, and I am neutral to announce that I am staying in my apartment for summer school and research. This hopefully means more and new recipes for y'all, although my appetite tends to decrease when it's too hot to breathe.